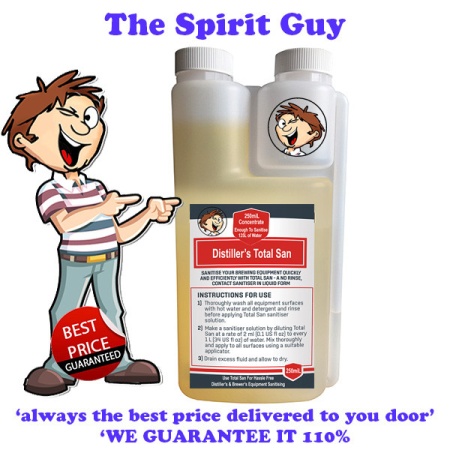 Distillers Total San Concentrate 250 miL
Description
( Enough concentrate for 125 Litres of water ) 
 1 x 250 miL 2 Part Bottle 
Sanitise your brewing equipment quickly and efficiently with Total San.
Total San is a no rinse on contact sanitiser in liquid form.
Instructions for use
1. Thoroughly wash all equipment surfaces with hot water and detergent
and rinse before applying Total San sanitiser solution.

2. Make a sanitiser solution by diluting Total San at a rate of 2 miL to every 1.0 L of water.
Mix thoroughly and apply to all surfaces using a suitable applicator ( eg. spray bottle ).

3. Drain excess fluid and allow to air dry.
What customers are saying